« Product Overview
TOSHIBA B-SX4 HF/UHF
Fast, reliable, easy and compatible at a lower total cost of ownership.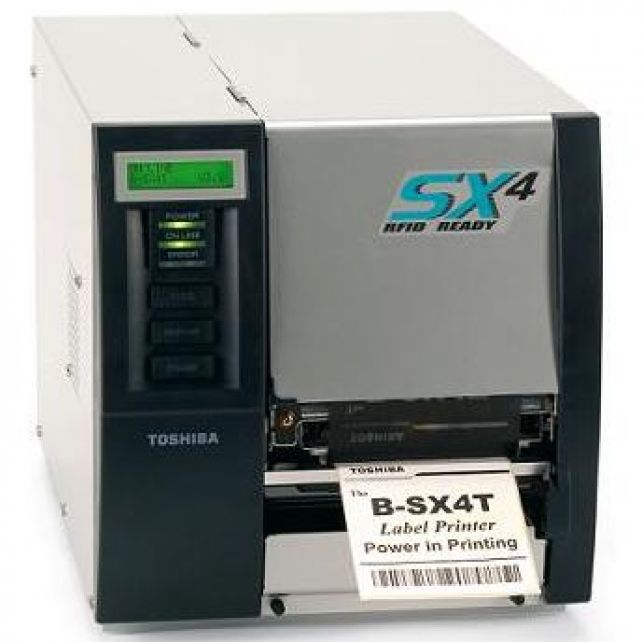 With over 20 years experience in producing barcode label printers the TOSHIBA B-SX4 & B-SX5 thermal transfer/direct thermal industrial printers provide world leading innovation and reliability. Built with the future in mind, the 'RFID Ready' B-SX printers take the barcode label printer to the next level. Ideal for use in all heavy-duty industries including chemicals, manufacturing, pharmaceuticals, textiles, electronics and telecom.
High print quality
TOSHIBA's very own print heads - 203 dpi on the B-SX4 and 306 dpi on the B-SX5 - make these machines unique in the market. Innovations include high-precision heat history control in 7 stages, a new hyper heater mechanism and improved alpha protection layer. The superb clarity is further enhanced by the new linear torque control of the TOSHIBA TEC double ribbon motor system. The on-the-fly ribbon save function allows ribbons to be saved without a detrimental effect on throughput (an option on the B-SX4). The TOSHIBA print heads also extend the print head life (100 km life time).
RFID
RFID technology satisfies the growing requirements of supply chain management. Data, text, barcodes and graphics can still be printed on labels in the usual way, but at the same time complementary information is stored on integrated circuits utilising radio frequency, ready for future reading or editing as required. In fact these printers treat the addition of RFID data as just another barcode. So for the user or programmer no knowledge of RFID is necessary. Just send the data as part of a label format and the printer does the rest.
HF 13.56 MHz
(only available in Europe) The B-9704-RFID-H1* option enables the printer to encode chips at 13.56 MHz. Current supported chips are C210, C220, C240, C270 (I-Code), Tag-It, ISO15693, and ISO18000 type 3.
UHF 869.5
The B-SX704-RFID-U2* option enables the printer to encode chips at 869.5 MHz. Current supported chips are EPC Class0, Class0+, Class1, Class1 GEN2, and ISO-18000-6-B.

* Subject to certification and frequency regulations in each country.
Frequencies
HF (13.56 MHz)
UHF (865 - 915 MHz)
Application Areas
Food
Asset Management
Pharma
Fashion and Apparel Industry
General Warehouse
Maintenance and Service
Transport and Delivery
Industry and Automotive