« Product Overview
AGX WP4 SL RFID
Mobile rugged handheld for data collection of RFID LF, HF or UHF tags with optional Auto-ID functions.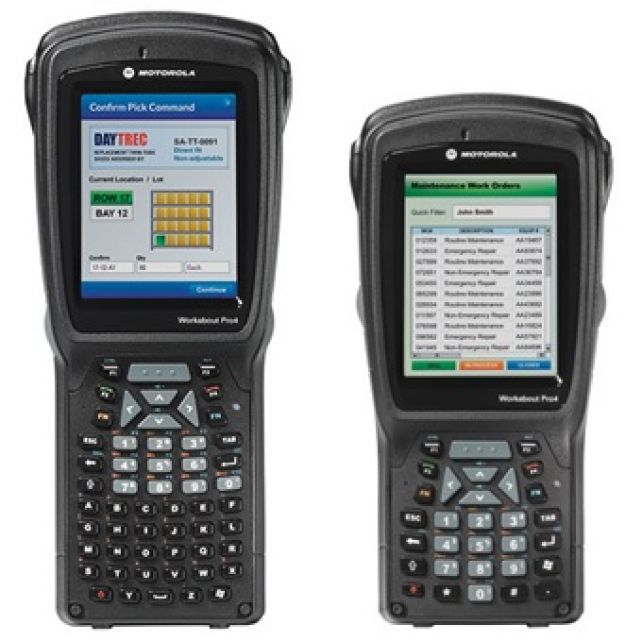 The mobile workhorse
The AGX WP4 SL is relied on every day in mobile-intensive applications such as asset tracking, meter reading, and mobile ticketing across a variety of industries such as field service, courier, retail, warehousing and manufacturing – and the list continues to grow.
It's more than a data capture device. It's a cellphone and an intelligent workstation too, allowing your mobile workers to call customers, upload route maps, and send data back to office headquarters.
It's all about choice
Choose WiFi, GPRS/EDGE or 3G HSDPA voice and data. Choose numeric or full alphanumeric keyboards. Choose your scanners, imagers and RFID options. There's even a choice of Windows® flavors.
Even once deployed, you've still got options, with a universe of hardware modules and software applications to choose from.
The mobile worker is our focus
Mobile workers get the job done faster and more comfortably, even over the longest shifts.
It starts with a full VGA display for finer details in maps and schematics, and easier readability even in low light and direct sunlight. The ergonomic keypad is designed for one-hand operation with clear, unambiguous feedback. But it also comes down to intangible things like the feel in your hand, the balance and the way your fingers seem to fall in just the right way.
Rugged beyond the ratings
The AGX WP4 SL is tested to withstand drops from six feet to concrete and easily handles the kind of shock and vibration you get from mounting it on a truck or a forklift. It has an IP65 rating, protecting it against dust and water sprayed from all directions.
RFID Module Options
• HF Module Frequency: 13.56 MHz
Tags supported: ISO 15693, Philips® ICode™; TI Tagit™; Tagsys (C210, C220, C240, C270)
Read/write range up to: 3.15 in (8 cm)

• MIFARE TM module Frequency: 13.56 MHz
Tags supported: ISO 14443 A and B, MIFARE TM
Read/write range up to: 1.97 in (5 cm)

• LF module Frequency: 125 KHz, 134.2 KHz
Tags supported: EM 4x0x, EM 4x50; Hitag 1 and 2 ; ISO HDXA and FDXB
Read/write range up to: 2.76 in (7 cm)

• UHF module Frequency: 868 MHz or 915 MHz
Tag supported: EPC Class 1 Gen 2, other protocols depending on regions
Read range up to: 98.425 in (250 cm).
Frequencies
HF (13.56 MHz)
LF (125 - 134.2 kHz)
UHF (865 - 915 MHz)
Application Areas
Food
Time Management
Asset Management
Waste Management
Access Control and Security
Laundry
Pharma
Health Care
Library and Documents
Fashion and Apparel Industry
General Warehouse
Maintenance and Service
Ticketing
Onsite and Field Service
Transport and Delivery
Industry and Automotive