« Product Overview
AGX NPTZ-3
Weather resistant stainless steel rotative camera ATEX zone 1 with optional heating and screen wiper.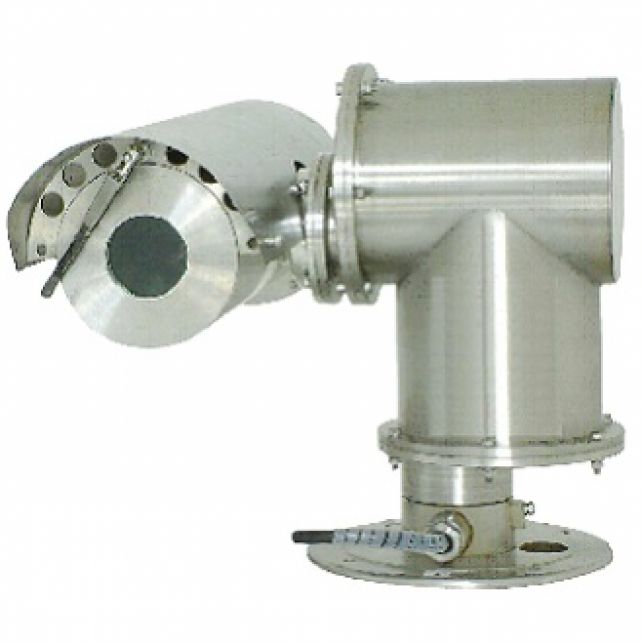 Flexible for any application
The AGX-NPTZ-3 was designed to offer customers with a flexible product to meet a wide range of different project and application requirements.
The AGX-NPTZ-3 explosion proof camera station combines pan/tilt, camera housing, wiper system and camera modules into one fully integrated easy to install and maintain unit. There is no external wiring between the pan/tilt and camera housing.
Standard supply of the AGX-NPTZ-3 includes 15 core composite cable of 2 meters length and cable nuts as well as sunshield. The camera station can be either base or wall mounted with optional wall mount bracket.
The AGX-NPTZ-3 Explosion proof PTZ Camera Station provides safe and reliable surveillance in ATEX Zone 1 areas.
Features:
Stainless Steel 316L or 304
Certified to ATEX EEx d IIC T6 (ATEX Directive 94/9/EC)
Fully Integrated Pan/Tilt, Camera Housing and Wiper System with no external cabling between Housing and Pan/Tilt
Used with External Telemetry Receiver (Pelco D/P protocol) housed in AXCR-1 Explosion proof Enclosure. The AGXCR-1 also acts as a junction box.
Choice of 18X, 28X or 36X Sony ¼" Color Day/Night CCD Block Camera
Pan Rotation : 300° (350° viewing) or 350° (360° viewing)
Tilt Rotation : Unobstructed +60° ~ -60° or +90° ~ -90°
Pan / Tilt Speed : 3.8°/S
Weather Resistant to IP66 & NEMA 4X Standards
Designed for ease of installation and minimal maintenance
2 meters of 15 core composite cable lead supplied with unit.
Sunshield included
Optional wall mount bracket, auto-heater & AGXFT flexible tube