« Product Overview
AGX IPTZ-5
Weather resistant stainless steel rotative camera ATEX zone 1 with optional screen wiper.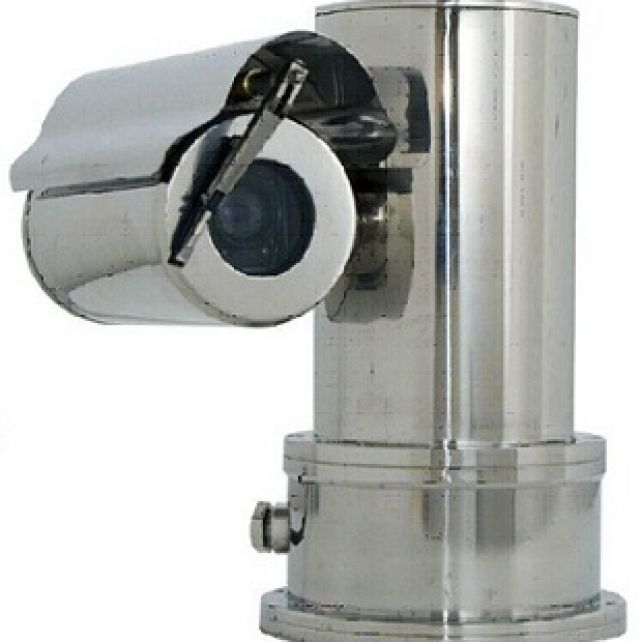 Easy installation without external cables
The AGX IPTZ-5 is an improved and innovative explosion proof PTZ camera station which combines pan/tilt, enclosure, telemetry receiver, wiper system and camera into one fully integrated easy to install and maintain unit. No external wiring between pan/tilt and camera housing.
Mounted on base or on the wall
Standard supply of the AGX IPTZ-5 includes one 6 core composite cable of 2 meters length and cable nut as well as sunshield. The AGX IPTZ-5 incorporates both Pelco D & P protocols and various baud rates for easy integration with most controllers. Vicon protocol is available upon request. The camera station can be either base or wall mounted with optional wall mount bracket.
IP SOLUTION
While the AGX IPTZ-5 is a analog system, converting it into an IP SOLUTION and connecting it on a network is easily achieved using a encoder housed in a explosion proof, weatherproof or indoor enclosure.
Features:
Stainless steel 316L or 304 with electro polished or corrosion resistant paint finish for maximum corrosion protection
Certified to ATEX Ex d IIC T6 (ATEX Directive 94/9/EC)
Fully integrated receiver, pan/tilt, enclosure, wiper system and Integrated Optics Package (IOP)
Pelco D/P standard. Vicon protocol upon request
Supports advanced OSD menu
Choice of 18X, 23X, 26X, 35X and 36X Sony/Hitachi zoom camera modules
Pan rotation : 360° continuous
Tilt rotation : unobstructed +90° ~ -90°
pan/tilt speed : 0.1°/S ~ 25°/S
Weather resistant to IP68 (1.2 m) and NEMA 6 and 6P standards
Designed for ease of installation and minimal maintenance
2 meters 6 core composite cable lead supplied with unit. Other lengths available upon request.
Sunshield included
Optional auto heater
ATEX Ex II 2 GD Ex d IIC T6 (ATEX Directive 94/9/EC).