« Product Overview
AGX CS101
Mobile rugged handheld for data collection of RFID UHF tags with exceptional read range (7-11m)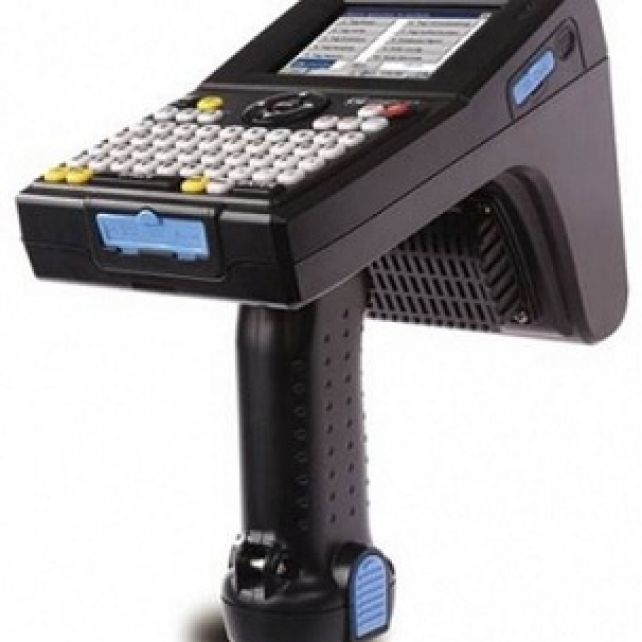 Very long read range for UHF RFID-Tags and 1D/2D barcode simultaneously
The AGX CS101 is a UHF EPC Class 1, Gen 2 hand held RFID reader with industry leading read range and read rate performance to enable ultra fast inventory of cases on pallet, warehouse shelves, moving vehicles, and other tagged items in business processes where fixed reader class performance is required in a portable device.
It is ideally suited for warehousing, transport and logistics applications where long read range is required. The AGX CS101 is provisioned as a complete kit including batteries, chargers and software, including demo software, ready to go.
It has an excellent read range of typically up to 7 meters in open space or 7-11 meters in indoor confined space with AD431 tags.
Ergonomic and powerful
The AGX CS101 can achieve up to 150 tags per second for selected Gen2 profiles with a peak rate of 400 tags per second. Country specific versions in terms of European, US and Japan frequency bands are available and the AGX CS101 has a choice of vertically linear polarized or horizontally linear polarized antenna.
The ruggedized design has passed drop tests 1.5 meters on 6 surfaces and the unit is to IP65 specification. Source code software includes: read/write tags, tag inventory, tag ranging, tag search, tag authentication, tag association, tag commissioning, barcode scanning, database manipulation, wireless network transfer, server side software drivers etc. All complete with SDK and source code.
Highlights
Mobile UHF RFID ISO18000-6C EPC Class 1, Gen 2 Reader
Excellent read range: 7 meters open space, 7 - 11 meters indoor confined space
High read rate: typical 150 tags per second for selected Gen2 profiles (peak at 400 tags/s)
Choice of vertically linear polarized or horizontally linear polarized antenna
Integrated 1D & 2D Image scanner
QWERTY keyboard with Touchscreen
IEEE802.11 b/g WiFi, USB and RS232 Interfaces
Ruggedized design: Drop Test 1.5 meters on 6 surfaces, IP65
Source Code Samples
Optional GSM/GPRS+GPS Add On Module
12 month warranty
UHF (868-915MHz) RFID
ISO 18000-6C (EPC Class 1 Gen 2) - supports all common tag functionalities including: read, write, kill, lock, inventory, meta inventory, NXP proprietary commands
Supports all typical settings e.g. sessions, Q-values
Reading distance 7 -11 m, typical
Horizontal linear polarized
Vertical linear polarized
Omnidirectional
Frequencies
Application Areas
Food
Time Management
Asset Management
Access Control and Security
Laundry
Pharma
Health Care
Library and Documents
Fashion and Apparel Industry
General Warehouse
POS
Maintenance and Service
Ticketing
Onsite and Field Service
Transport and Delivery
Industry and Automotive