« Product Overview
AGX 100Ex UHF
Fix mounted RFID UHF reader with RS232 connection and 4 antenna connectors for ATEX zone 1.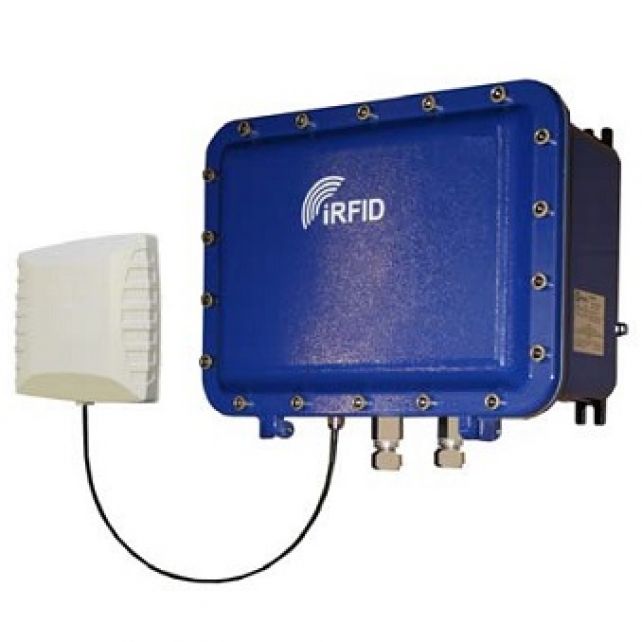 ATEX zone 1 UHF Reader with long read range and up to 4 antennas
The AGX 100Ex UHF brings RFID reader technology into the hazardous area, allowing reliable tracking solutions to be implemented in the harshest of environments. When used with extensive range of passive RFID tags, users can safely track and maintain any asset throughout the hazardous area. With up to 4 antenna outputs the AGX 100Ex provides a versatile solution for multiple read locations with just one fixed reader. The intrinsically safe RF outputs utilize RF Galvanic isolator technology allowing the use of specialist RFID antennas for long read range and excellent read reliability.
The reader is a UHF multi protocol module for long range applications. With programmable output power in 256 steps from 17dBm to 32dBm, the reader can detect tags at distances of up to eight meters. The AGX 100Ex is fully compliant to the European regulations ETSI EN302208 and EN 300220, and supports Philips UCODE EPC 1.19, ISO 18000-6B and EPC Class1 Gen2. AGILLOX also offer a portable handheld RFID UHF reader with touch screen technology to conveniently capture tags information.
RFID makes life easier
Typical ATEX RFID applications are identification of objects in explosive and hazardous atmospheres. ATEX RFID makes life easier in supply chain management and industrial logistics of metal container and drums, LPG gas cylinders etc.
Supported RFID transponder tags
All UHF 860 - 960 MHz (+/- 5%) Iso: 18000-6 Class 1 Gen 2*
EX marking
II 2(1) GD
ATEX II 2(1) GD Ex db [ia IIC Ga] IIB+H2 T6
Ex tb IIIC T85°C IP66
-20ºC to +60ºC
Frequencies
Application Areas
Asset Management
Waste Management
Access Control and Security
General Warehouse
Maintenance and Service
Onsite and Field Service
Transport and Delivery
ATEX-Zone 2 und 22
ATEX Zone 1
Related Products