« Product Overview
Merlin UHF Cross Dipole
Mobile rugged handheld for data collection of RFID UHF tags with special Cross Dipole antenna.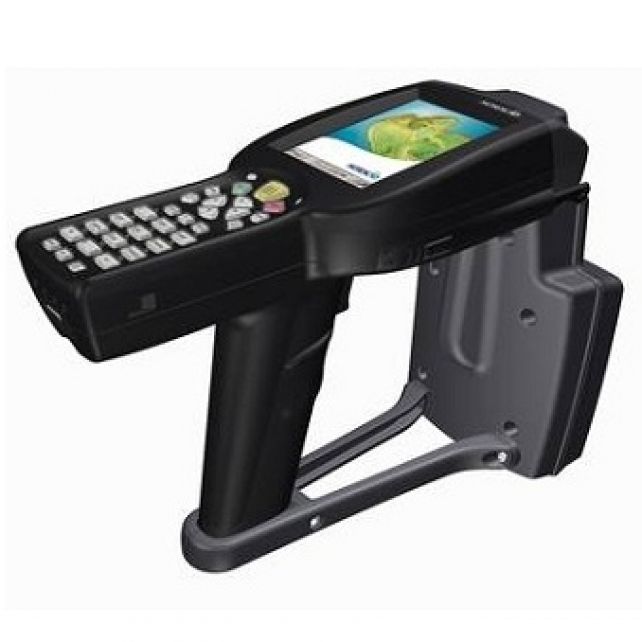 Cross Dipole Antenna
The RFID Mobile Computer Nordic ID Merlin Cross Dipole UHF comes with two crossed dipole aerials. Here the range of linear aerials is combined with the omnidirectionality of circular aerials by avoiding the latter's high energy consumption.
State-of-the-art RFID
With the innovative Cross Dipole aerial, RFID tags can be read from a distance of more than four meters. As the dipole aerials are alternately selected during the reading process, the orientation of the RFID tags to be read is irrelevant. Nordic ID Merlin Cross Dipole can read barcodes and RFID tags in one step - even tags in a closed box can be scanned. This function is particularly convenient in textile production and also in the logistics chain where individual cardboard boxes are bundled in lots and transported on pallets. As the reading of the tags with the Cross-Dipole aerials is done in a very energy-efficient way, Nordic ID Merlin Cross Dipole can be used up to 28 hours with one battery charge.
Robust ergonomic design
The Nordic ID Merlin Cross Dipole UHF's sophisticated ergonomic design and light weight (approx. 800g) proves that ease of handling was a main focus in the development of this Nordic ID device. With individual key light activation, software applications can be easily used even in dark environments. Due to the large display and the possibility to switch off the touch screen function, the risk of error is minimised. The device has been developed in consideration of typical practical requirements and subject to drop, splash water and dust tests. Nordic ID gives a 2-year guarantee for the Nordic ID Merlin Cross Dipole UHF RFID unit.
Excellent performance thorugh first-rate software
Combining the current Windows® CE operating system with Nordic ID software tools has been essential in contributing to the exemplary usability of this handheld device. With the improved software, RFID applications can use the entire memory. At the same time, larger and more complex applications can be run faster than ever before.
The Nordic ID Cross Dipole UHF RFID is supplied with a powerful configuration package and with pre-installed NetOp Remote Management software so that the system integrator can already configure the individual devices before they are handed to the final users. At the same time, NetOP software provides full control of the devices by enabling functions like Interactive Guidance and server-initiated OS software updates.

The software applications for Nordic ID Merlin Cross Dipole UHF RFID range from Naurtec Terminal emulations to Ideam application programming tools. As is the case with all Nordic ID devices, Nordic ID Merlin Cross Dipole UHF RFID combines up-to-date standard communication in one device. With technologies like GPRS, WLAN, Bluetooth and USB, this handheld can be linked to the back office, securing a seamless flow of information.
Highlights
up to 4m reading range
low energy consumption in RFID mode
quick reading of multiple tags
2-year warranty
standard Windows® CE operating system and standard browser
various communication alternatives
ergonomic design
compact size
durability
large colour display
automatic wake up display / tilt switch
individual key light activation
pistol grip with additional battery
UHF (868-915MHz) RFID
ISO 18000-6C (EPC Class 1 Gen 2) - supports all common tag functionalities including: read, write, kill, lock, inventory, meta inventory, NXP proprietary commands
Supports all typical settings e.g. sessions, Q-values
Reading distance 3 m, typical
ERP +26 dBm
Software controlled antenna polarization; horizontal, vertical or cross-polarized
Frequencies
Application Areas
Food
Time Management
Asset Management
Access Control and Security
Laundry
Pharma
Health Care
Library and Documents
Fashion and Apparel Industry
General Warehouse
POS
Maintenance and Service
Ticketing
Onsite and Field Service
Transport and Delivery
Industry and Automotive