« Product Overview
Merlin UHF
Mobile rugged handheld for data collection of RFID UHF tags with optional Auto-ID functions.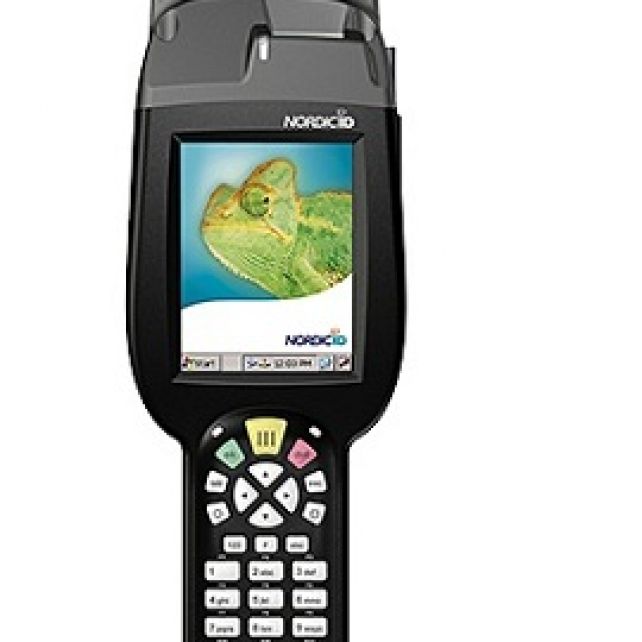 Read Barcodes und RFID-Tags simultaneously
The Nordic ID Merlin UHF RFID combines innovative UHF RFID technology with high reading performance (200 mW). This mobile computer is used to read and write RFID tags, 1D and 2D barcodes can be read optionally. The UHF reader enables you to specifically process either individual tags or a whole group of them- up to a distance of 1.6m.
With these prerequisites, you can easily reach excellence in all industry, retail and logistics applications. Stay in touch with your company network, regardless of where you are. The Nordic ID Merlin series covers all established transmission standards like Summit WLAN, Bluetooth, and GPRS. Designed for single-hand control, equipped with a long-life battery, as well as being extremely robust, these devices are always the first choice where excellence is required.
Ergonomic and powerful
In use, Nordic ID Merlin UHF RFID proves user-friendly and cost-efficient. Thanks to its ergonomic design, the robust handheld computer can be swiftly operated with one hand. Moreover, the intuitively operated Windows® interface requires but little training, immediately enabling you to fully work with the new system and to achieve benefit from it. The large, illuminated colour display ensures good readability even in poorly lit areas. It can be controlled with a stylus or your finger and ensures good readability even in poorly lit areas. The low energy consumption guarantees a long service life even with RFID operation.
The handheld computer runs the operating system Windows® Embedded CE 6.0 and has enormous capacities for quick and trouble-free data processing: the high-performance 532 MHz processor has up to 256 MB DDR RAM and 288 MB Flash. It can be optionally extended using microSD cards. With the flexible power package Nordic ID Merlin UHF RFID you are well equipped for RFID future – whatever the use or type of application.
Highlights
best-in-class RFID
up to 1.6 m reading range
low energy consumption in RFID mode
fast reading of multiple tags
2-year guarantee
standard Windows® CE operating system and standard browser
various communication alternatives
ergonomic design
single-hand operation
compact size
durability
large colour display
automatic wake up display / tilt switch
individual key light activation
UHF (868-915MHz) RFID
ISO 18000-6C (EPC Class 1 Gen 2) - supports all common tag functionalities including: read, write, kill, lock, inventory, meta inventory, NXP proprietary commands
Supports all typical settings e.g. sessions, Q-values
Reading distance 1,5 m, typical
ERP +23 dBm
Horizontal linear polarized
Frequencies
Application Areas
Food
Time Management
Asset Management
Access Control and Security
Laundry
Pharma
Health Care
Library and Documents
Fashion and Apparel Industry
General Warehouse
POS
Maintenance and Service
Ticketing
Onsite and Field Service
Transport and Delivery
Industry and Automotive