« Product Overview
AGX DOT 200
Slim, rugged and mobile PDA with Auto-ID and RFID (HF) functions.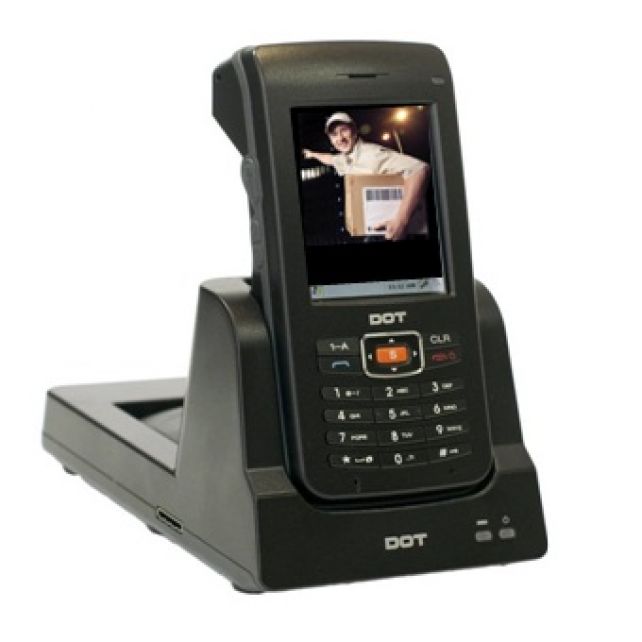 AGX DOT 200 High performance with slim and compact design
Built in Samsung ARM 11 800MHz for high speed data processing. 60% slimer, compacter and lighter device than other hand-held terminals. With Windows CE 5.0 for security and OS scalability.
Support variety working environment
Flexible options for variety working environment 1D/2D barcode scanner, GPS, WiFi, Bluetooth, GSM, Camera, HF RFID reader High performance, easy user interface barcode scanner.
Auto-ID and RFID functions optional
Built in Barcode scanner, camera, GSM, WLAN, GPS and HF RFID reader in slim and rugged PDA. Rugged and secured device that is certified IP 54 and 1.5m drop test gurranty best performance in tough working environment. Samsung 800MHz ARM11 CPU, 128MB RAM and 256MB ROM which can upgrade to 1GByte. Windows CE 5.0 OS.
Flexible communication
The AGX DOT 200 PDA can be equipped with GSM, WLAN and Bluetooth. Easy data send/receive and synchronize with other device. Easy read and scan barcode with powerful laser barcode scanner. Ergonomic design for better grib and work efficiency.
Specialized device for Logistics, Parcel delivery and vehicle tracking business.
This Model Features
Small form factor/lightweight 220 g/high mobility
Windows CE 5.0
USB + Wi-Fi

2,8" Color

Touch Screen

1300 mAh

/ 3000 mAh

* Battery
CE approved
IP 54/RoHs
Other Options Available (upon request)
1D or 2D Barcode Scnner


GSM/GPRS

3.0 MPixel Camera
GPS
Desktop or Car Cradle
Leather Case
1 slot Cradle with charging slot for second battery (Ethernet optional)
Frequencies
Application Areas
Food
Time Management
Asset Management
Access Control and Security
Laundry
Pharma
Health Care
Library and Documents
Fashion and Apparel Industry
General Warehouse
POS
Maintenance and Service
Onsite and Field Service
Transport and Delivery
Industry and Automotive
Related Products